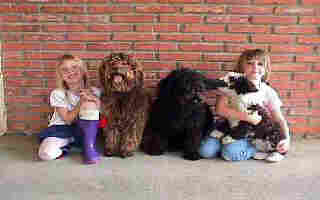 My name is Craig Pope. I live in Chesapeake, Virginia. I first became aware of the Spanish Water Dog when I lived in Spain. When I first started my research on the Spanish Water Dog in 1997, there were only 2 web sites that had any information about the breed. I started attending local dogs shows and was soon introduced to Antonio Garcia Perz, the founder of the breed. To make a long story short, when I returned to the US in 2000, there were less than 20 Spanish Water Dogs in North America and I owned 4 of them: Canela, Bolera, Oso & Panda.

I soon organized a small group of SWD enthusiasts and in June of 2001 established/founded the first Spanish Water Dog breed club in North America (SWDAA). The purpose of the club was to maintain the European Breed Standard and Grouping (FCI Group 8) . I drafted the first American breed standard for United Kennel Club (UKC). On January 1, 2004 the Spanish Water Dog received full recognition by the United Kennel Club. I also established the first health directory for the breed with the Canine Health Information Directory (CHIC).In December of 2005, I resigned as President of the SWDAA. Spanish Water Dog is truly a versatile breed. For centuries they have been used as hunting dogs (waterfowl and upland game dogs) and herding dogs, as well as guard dogs.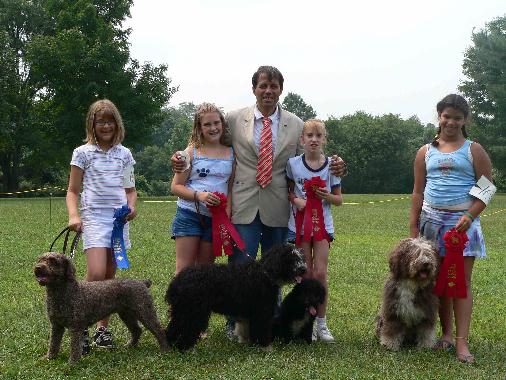 I am now the President of the Spanish Water Dog Society. The objectives of the Spanish Water Dog Society are:

1. To maintain the description of the true type of Spanish Water Dogs as approved by the United Kennel Club, and to urge breeders to adhere to the published breed standard and the approved Code of Ethics.

2. To take all reasonable actions to protect, conserve and advance the interests of the Spanish Water Dog breed and of the owners, handlers and breeders of Spanish Water Dogs; including cooperation with other likeminded organizations.

3. To conduct, promote and support various events, while encouraging excellence in sportsmanship. To educate handlers, owners and the public in the efficacy, use, care and training of Spanish Water Dogs.